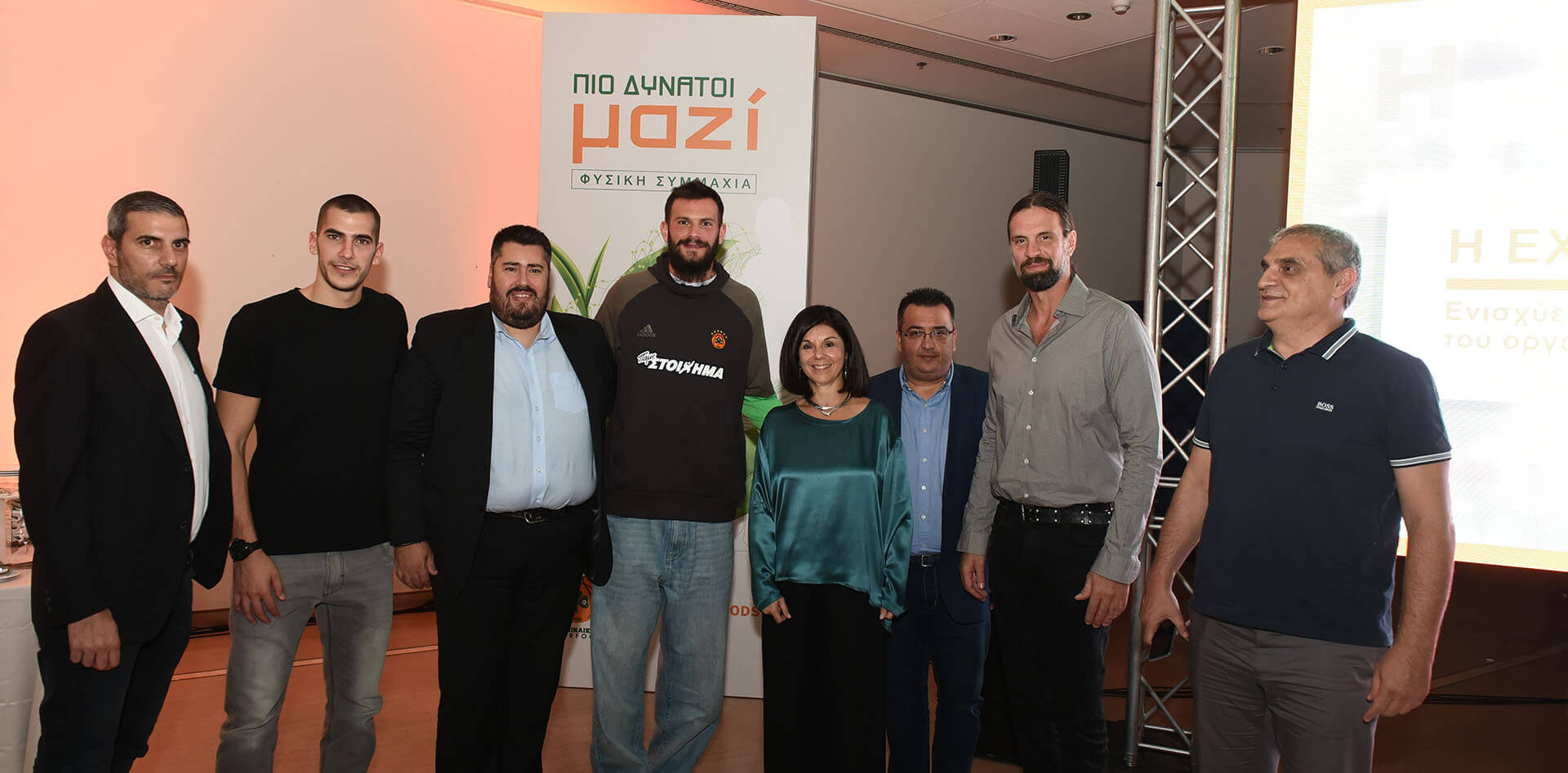 "A NATURAL ALLIANCE": PANATHINAIKOS BASKETBALL CLUB AND SUPERFOODS NATURE'S BEST® JOIN FORCES.
Panathinaikos Basketball Club and SUPERFOODS NATURE'S BEST® , a company with many years' knowledge and experience of superfoods and natural food supplements, have joined forces, announcing the team's new name, which for the new season is "PANATHINAIKOS BC SUPERFOODS".
SUPERFOODS NATURE'S BEST® supports the vision, values and philosophy of the team, becoming one of the main partners of PANATHINAIKOS BC SUPERFOODS and helping to make the team stronger. At the same time, an innovative platform of actions will be created to promote a healthy lifestyle through sport, framed by a host of joint activities during their partnership.
The CEO of PANATHINAIKOS BC SUPERFOODS, Panagiotis Triantopoulos, said: "We are delighted to welcome SUPERFOODS NATURE'S BEST® to the Panathinaikos family." SUPERFOODS NATURE'S BEST® identifies with our team's philosophy and is joining us in a new era, with the aim of highlighting sport as an ideal that will cultivate concepts such as spirit, health, passion and fair play among people today."
Stavroula Chassapoglidou, General Manager of SUPERFOODS NATURE'S BEST® , spoke about the partnership, noting: "It is a great honor and privilege for us to be able to link the SUPERFOODS NATURE'S BEST® name with the most successful Greek basketball team of the last twenty years, which enjoys international recognition and renown. PANATHINAIKOS BC SUPERFOODS is an exemplary team and an outstanding representative of Greek sport and the ideals that it stands for. SUPERFOODS NATURE'S BEST® is an innovative company that promotes health, quality of life and the strength that nature can give people today. This is a partnership whose aim is to help enhance and promote the values of sport in combination with a healthy lifestyle and nutrition."
About PANATHINAIKOS BC SUPERFOODS – About SUPERFOODS NATURE'S BEST® 
SUPERFOODS NATURE'S BEST®  was the first company to introduce superfoods into pharmacies and highlight them as a key ingredient of its natural food supplements. The superfoods used as raw materials in every SUPERFOODS NATURE'S BEST® product, are among the oldest fruits and nuts growing on our planet. They have greater nutritional value than other foods due to the high concentration of bioactive ingredients, and contribute to the proper functioning of the body and the maintenance of health. SUPERFOODS NATURE'S BEST®  has a wide range of food supplements with unique benefits that meet the real, ordinary needs of people today. The company's aim is to promote health, well-being and vitality.