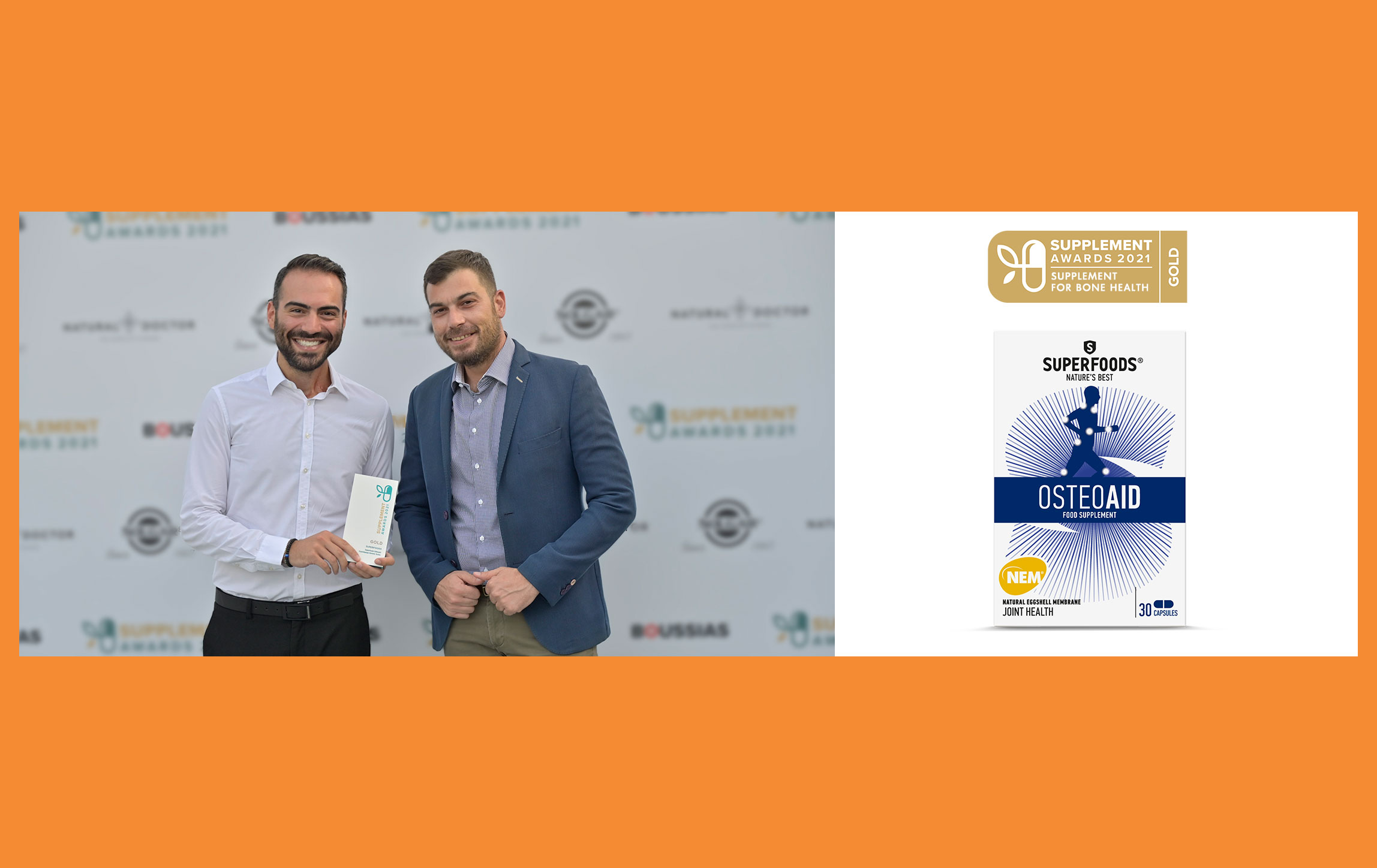 Golden distinction for SUPERFOODS NATURE'S BEST OSTEOAID at Supplement Awards 2021
On Wednesday, June 3oth 2021, the ceremony for Supplement Awards 2021 took place, in which SUPERFOODS NATURE'S BEST OSTEOAID was awarded with Golden Distinction, as the Best Food Supplement for Bone Health!
Supplement Awards are organized for the first time in Greece by Boussias Communications, in order to reward the innovation for food supplements and promote their scientific validity, by emphasizing on their safety and quality.
SUPERFOODS NATURE'S BEST OSTEOAID is an innovative food supplement with proven effectiveness for the joints. Its main, natural-origin ingredient is NEM® (Natural Eggshell Membrane), as it comes from the membrane of the egg shell. The effectiveness of NEM® is supported by 12 clinical studies published in world-renowned scientific journals, with visible benefits from the first 7-10 days from its consumption, while the product is easy-to-use, with just 1 capsule per day.
Mr. Konstantinos Papazoglou, General Manager of SUPERFOODS NATURE'S BEST, stated: "The power that superfoods offer to the human body, by enhancing & maintaining its well-being, is the company's competitive advantage at pharmacy's market. This award proves the innovation of SUPERFOODS NATURE'S BEST OSTEOAID in the category of bone health and strengthens our vision in the contribution of protection & improvement of the daily life quality of people".
The honorary distinction was received by Mr. Vassilis Skiadopoulos, Marketing Specialist of the company and Mr. Andreas Stergios, Sales Manager, observing all security measures at the event, due to Covid-19 pandemic.
#TakeYourSuperPower
#SUPERFOODS