THE BENEFICIAL QUALITIES OF S Detox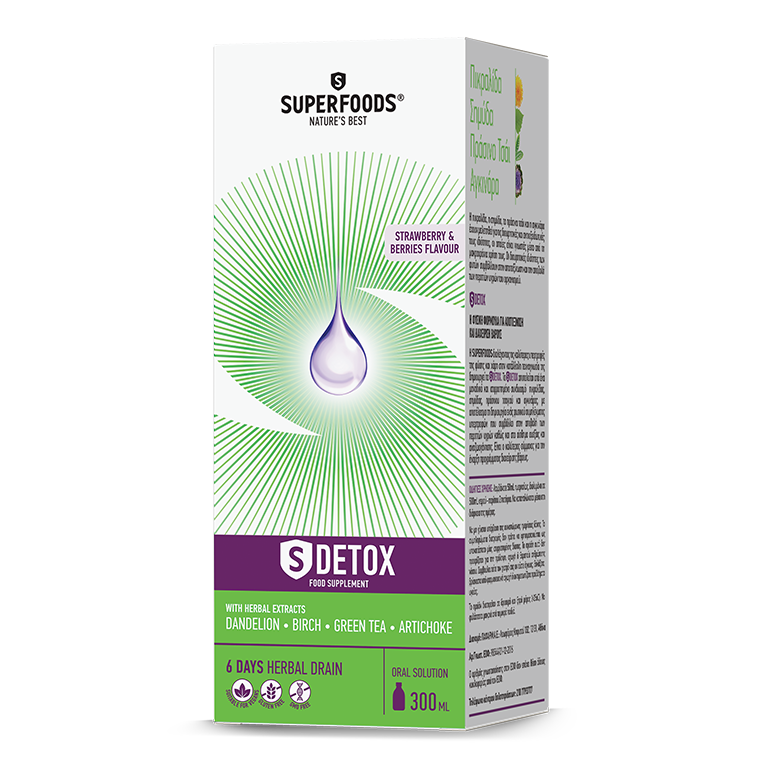 THE BENEFICIAL QUALITIES OF S Detox
Taraxacum officinale, Betula pendula, Camellia sinensis
An oral solution with a unique and balanced combination of four plants, known for their diuretic and antioxidant properties. They contribute to detoxification and help reduce fluid retention in 6 days.
It acts beneficially on the weight management, so it is invaluable when starting a diet. It has a unique strawberry and berries flavour.
A unique formulation of 4 plants that acts beneficially on detoxification and weight management.
A balanced combination of 4 plants that promotes a sense of well-being and rejuvenation.
Active ingredients

Per 50ml
Dandelion
275mg
Birch
275mg
Green tea
275mg
Artichoke
91mg
RECOMMENDED FOR
Men & women for:
detoxification
preparation for weight loss
a general feeling of well-being
DIRECTIONS FOR USE
Take 50ml daily in 500ml of water (approx. 2 glasses).
Food supplements should not be used as a substitute for a balanced and healthy diet. Food supplements are not intended to prevent, treat or cure any disease. Seek professional advice before using if you are pregnant, breastfeeding, under medication, suffer from food allergies or have an underlying medical condition.Keep out of reach of children.

SuperFoods Benefits
Dandelion, birch, green tea and artichoke are known for their contribution to detoxification and the elimination of excess fluids.